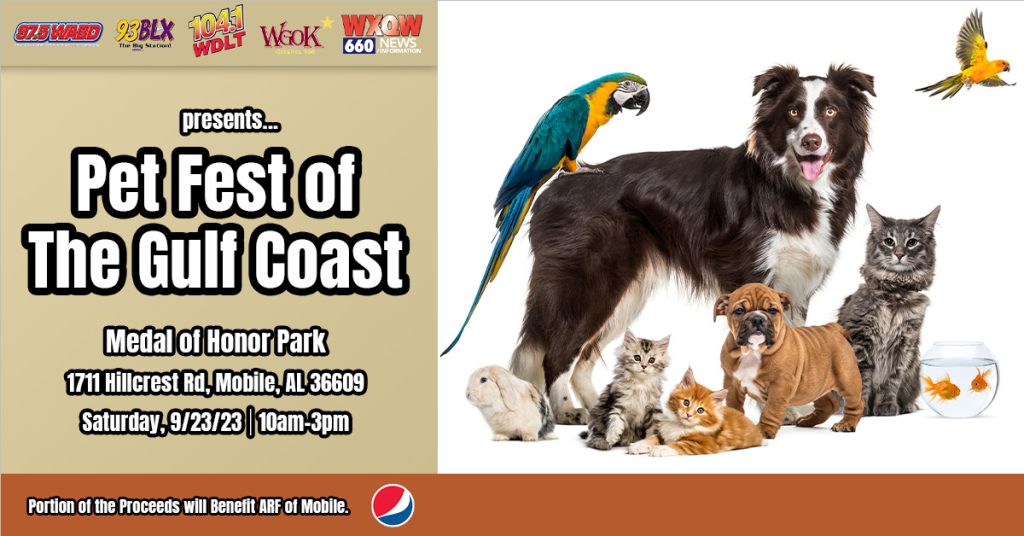 CUMULUS MEDIA MOBILE IS HOSTING THE FIRST EVER
'PET FEST OF THE GULF COAST"
FROM FOOD TRUCKS TO DEMONSTRATIONS, WE'RE HERE TO SHOW OUR PETS SOME LOVE!
THE EVENT TAKES PLACE SATURDAY, SEPTEMBER 23rd, 2023 AT MEDAL OF HONOR PARK LOCATED AT 1711 HILLCREST Rd, MOBILE, AL 36609
COME OUT & SHOW OFF YOUR POOCH!!
VENDORS INCLUDE:
AUTOMOTIVE SPONSOR: TAMERON SUBARU
CHILL ZONE: MEKEDA NICHOLS – STATE FARM
WATERING HOLE: MAWSS
WATERING HOLE: GRAYSON AIR CONDITIONING
FOOD VENDOR: DOMINO'S
FOOD VENDOR: FRIOS POPS FOOD TRUCK
FOOD VENDOR: SOUTHERN CREAM ICE CREAM TRUCK
FOOD VENDOR: LOS ROLLIN BROTHERS FOOD TRUCK
FOOD VENDOR: VEGAN TIME FOOD TRUCK
CANNABAMA
CAMP BOW WOW
SESSION TEAM – ROBERTS BROTHERS
CRUNCH FITNESS
HEALTHY HARVEST CBD
ELLENJAY
NEW HORIZONS CREDIT UNION
CRICKET WIRELESS
UPTOWN URGENT CARE
GULFQUEST NATIONAL MARITIME MUSEUM OF THE GULF OF MEXICO
MOBILE BAY COINS
SOUTH ALABAMA CAGE BIRD SOCIETY
MOBILE KENNEL CLUB
CALDWELL WENZEL & ASTHANA, PC
AT&T
SWEET TOOTH CONFECTIONS LLC
THE DOG'S PAW GROOMING SALON, LLC
ROCK N ROLL-OFFS
BUBBLES THE CLOWN
COPS FOR KIDS K-9 UNIT
THE MOBILE POLICE DEPARTMENT – K-9
CLEAN EATZ
RESCUE FOUNDATION
DOCTOR DOOKIE
WANT TO BE A VENDOR?
BE SURE TO FILL OUT THE FORM BELOW FOR MORE INFORMATION.