BLACK RESTAURANT WEEK IS DISCOVERING THE FLAVORS OF AFRICAN AMERICAN, AFRICAN AND CARIBBEAN CUISINE IN MOBILE. PEPSI IS PROUD TO PARTNER WITH BLACK-OWNED RESTAURANTS.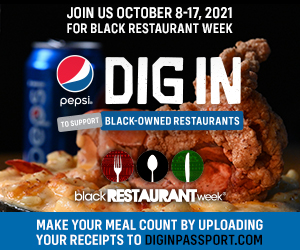 BLACK RESTAURANT WEEK BEGINS ON OCTOBER 8TH THRU THE 17th.  WE INVITE YOU TO VISIT A LOCAL BLACK OWNED RESTAURANT AND MAKE YOUR MEAL COUNT BY UPLOADING YOUR RECEIPT TO DIGINPASSPORT.COM. DIGINPASSPORT.COM
ALSO, MAKE SURE TO DOWNLOAD YOUR BLACK RESTAURANT WEEK BINGO CARD FOR CHANCES TO WIN PRIZES. FOR MORE INFORMATION GO TO WWW.BLACKRESTAURANTWEEKS.COM, JOIN PEPSI AND DISCOVER THE FLAVORS AT BLACK-OWNED RESTAURANTS, DURING BLACK RESTAURANT WEEK BEGINNING OCTOBER 8TH AND RUNNING THROUGH THRU THE 17 TH.
DO NOT FORGET TO MAKE YOUR MEAL COUNT!